Here are some of our new favorites for 2015, but this isn't all of them! Visit us throughout the season as more and more things arrive and begin to bloom. It's going to be a great gardening year!
More new Annuals you will love in 2015!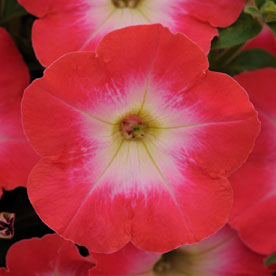 Flash Mob Petunias- Easy to grow, great in baskets or containers. Nice mounding habit. These come in a variety of colors. Pinkceptional and Redtastic are two of our favorites!
Cha Ching Petunias– bright and eye catching with jewel tones of red and white with a star pattern in the middle. good for baskets, containers and beds.
Verbena Espadrille Series- With fun names like "Cranberrytini," "Merlot," and "Peach Schnapps" how can you not fall in love with these new verbenas? Good growth habit with bright flowers atop green foliage makes them a winning choice for baskets and planters. Verbena love the heat of our Southwestern climate too!
Crazytunias are another new introduction from our friend Jim Monroe at Hort Couture. More fun names like "Cherry Cheesecake" make you want to eat this series up! Good habit, bright and colorful, this striking petunia will do well in beds, baskets, or containers. Add some pizzazz to your planters this year with Cherry Cheesecake!
And the best of the Perennials!
My favorite new perennial is one from an old friend in Pennsylvania, Lloyd Traven. You have   to know Lloyd in order to appreciate this new lavender. Lloyd is a little bit 1960's hippy, a lot   2015 savvy and his Phenomenal Lavender is getting rave reviews across the county. Great growth habit no matter where it's planted, we think this is going to be a killer plant for our area!
Bordeaux Lily of the Valley is a great new Lily of the Valley. For those of us that love this     plant, you know that the fragrance is wonderful and they are among some of the first to bloom   each spring. This one carries on the tradition but is larger and more vigorous than previous    ones.
Peek a Blue Russian Sage is a wonderful new Russian Sage. Russian Sage does so well in our area anyway. This one has an exceptionally long blooming time but its nicest attribute is that it stays compact at just about 2′ tall. So if you've loved Russian Sage but haven't been able to plant it because you haven't had a large enough area, this is the one to try!